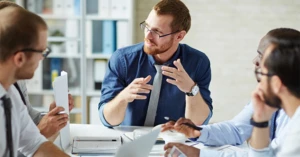 Business consultants assist clients in areas where they seek guidance. Adding demonstrable outcomes and new skill sets to the business. Business consultants are well-versed in what works and what does not. They are well-versed in best practices. All of this helps to prevent costly business blunders in a variety of areas. When starting, many new firms make the same mistakes. Entrepreneurs frequently have similar worries and inquiries. All of these issues may be addressed with the help of Business consulting services. Often, simply removing confusion may be beneficial. Working with a business consultant may benefit startups in a variety of ways. Speak with a business specialist about your situation. Ask questions to see whether such consulting services are a good match for your starting firm. Existing businesses frequently require support with change management. Business consultants here help companies with improvements they want to make. These changes might include growth, new sites, improvements to services or solutions, marketing, and sales activities, and so on. Consultants collaborate with key personnel to ensure that necessary changes are implemented appropriately. Any size firm or organization faces marketing and sales issues. Marketing consultants help businesses enhance their marketing outcomes, sales methods, and efforts. Marketing consultants can evaluate current marketing activities, optimize them, and develop new marketing strategies. Furthermore, consultants may help with sales methods and the design of sales incentives to improve performance.
Do you require assistance with overseas markets? Business consultants might also assist in this regard. Business consultancy services may be quite beneficial when approaching overseas markets. Business Consultants can help with licensing, logistics, localization, marketing, and sales in overseas markets. Discuss your ambitions for international expansion with an expert. Ask questions to learn more about it and your alternatives.
MISTAKE :1 Believing that "More" would solve all of your business problems.
Working with entrepreneurs and businesses over the years, I've seen the urge for "more" to cover up the fundamental issues. This difficult mentality occurs when we are searching for someone to save us or propel us to instant success. As an example:
More workers- It is folly to hire additional staff when inefficiency, bad leadership, and workplace drama consume resources. These issues should be solved before further employment.
More competence and experience- Business owners frequently bring in a new C-Suite executive with the expectation that their knowledge and skills would fix the company's problems. But how can you choose the ideal leader if you haven't identified your key challenges?
More cash-More monies being sent into a firm by a wealthy investor or a low-interest SBA loan might perpetuate negligent leadership and bad decision-making.
More time is required- When employees' performance is mediocre, giving them additional time or a different role just delays the unpleasant but unavoidable choice to terminate them.
Distinguish between adding "extra" as a fast fix and having a well-thought-out strategic strategy that boosts your company's key objectives as a business owner. Approach difficulties with your eyes wide open.
MISTAKE -2: Hiring Too Rapidly.
I've heard the typical advice to hire people to do anything in your business that you don't enjoy or aren't excellent at.
Of course, this is sound advice if your company is rapidly expanding and you need to focus on your core services. However, it is all too tempting to employ too rapidly and allocate duties before determining what is most needed. This short-sightedness depletes the resources required for critical channels. Before handing the baton, you must take complete control of your company. Take the time to weigh your workers' strengths against the company's objectives. Before hiring, identify your most pressing needs, and then hire talented candidates to fill positions that will limit or hurt your organization without their skills. Delegate chores that take you away from your most significant contribution to your firm in particular.
MISTAKE -3: Delegating Without Safety Nets.
Many business owners mistakenly assign duties because they are eager, if not desperate, to get things off their overloaded plates. Giving staff too much authority too quickly, without any training or monitoring, is a huge mistake.
Watering plants is an example of assignment at its most fundamental. To cross something off my never-ending to-do list, and believe that watering was a no-brainer, I requested my employee to water more than a dozen office plants. Unfortunately, the employee overwatered the plants to the point that they were sitting in 2 inches of water, which many types dislike.
Boy, was I stupid not to provide more direction—and so were a couple of my plants! Take the time to properly plan and provide clear guidance. Then, without micromanaging them, supply the particular elements for your people to succeed—even exceed.
MISTAKE -4: Employing People Who Prioritize Efficiency Over Effectiveness.
I learned the hard way that efficiency is only beneficial when combined with efficacy, clear direction from an employer, and intentional and attainable
goals.
Another former employee of mine used to take pride in her efficiency. For example, she purchased an additional hundred event brochures for future events and considered this as foresight and efficiency. Unfortunately, no more events were scheduled. Furthermore, she failed to notice that the brochure's cover highlighted
the title and dates of a specific event, making future use of the extras difficult. Ouch! Checking items off a list releases dopamine in the brain, which typically makes individuals feel good about themselves; nevertheless, efficiency is only as good as one's judgment. Create a system that provides staff with clear guidance and open communication so they may ask questions along the route. Be deliberate in creating corporate objectives and activities, measure everything to satisfaction from working, and hold management and workers accountable for doing the same.
MISTAKE -5: Failure to recognize market trends.
Blockbuster, the video rental chain, was at its pinnacle in 2004 and had shuttered all 1,000 sites by 2010! The franchise had the option to acquire Netflix (established in 1997) but turned it down.
Then came convenience, which swept the public by storm: no late penalties and the ability to ship DVDs at their leisure. It was a success! Netflix has continued to rise to the top of TV and streaming options, collecting 44 Emmys in 2021. Netflix swiftly gained market share and embraced the appeal of video and TV series streaming, becoming a leader that continues to stand head and shoulders above its competitors. To thrive in a rapidly changing market, we must be able and ready to pivot in response to new trends and developments. Business agility and resilience are no longer considered luxuries. This is the most important lesson the epidemic has given us!
Choose where you focus your attention and resources wisely. Pay attention to what your customers and workers have to say. Consider market trends and prospective possibilities regularly. Reevaluate initiatives that need an excessive amount of resources; there may be a better path or use of resources.
Subscribe to our free newsletter.
In today's interconnected world, the allure of international business expansion is undeniable. The promise of tapping into new markets, diversifying revenue streams, and increasing brand visibility has led countless organizations to set their sights on the global stage.  However, embarking on such a journey is far from a simple task. Navigating complexities of international business […]