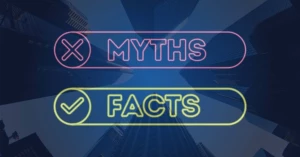 Myth No. 1: Business advisors will try to sell you what you already know.
According to an ancient practical joke, a consultant is someone who uses your watch to tell the time. And after that takes your watch, leaving you completely in the dark and much poorer.
You can understand why people enjoy this joke so much.
After all, your consultant might have only a basic understanding of your business at first.
However, employees who are working for your company are probably already very aware of the difficulties they encounter. They occasionally even come up with useful solutions.
Therefore, there will be a "discovery period" at the beginning of every consulting project. Your business consultant will start by asking your employees a lot of questions that seem silly or apparent. This is an essential step in the data collection process.
You will be given the chance to review and confirm the responses before continuing. This is undoubtedly the case for the watch joke's resonance and the pervasiveness of myth 1.
The bulk of workers, however, are blind to what business consultants do next. We begin to provide value.
We accomplish this by delving more deeply into the problems with the objectivity that only an outsider can provide.
By doing this, we move past symptoms to address the underlying causes of the issues. To connect broken relationships and missed chances, we also traverse internal boundaries.
It would be pointless for clients to hire consultants to tell them what you already know.
Of course, businesses indeed work with consultants to help them with their most difficult problems.
These are frequently difficulties you've never encountered before.
To put it another way, you don't have a watch the consultant can use. Or a compass to point your business in the direction of prosperity.
Business consultants sell organizations new watches for more accurate timekeeping and new compasses for more precise navigation by offering new tools through analysis, insight, and piloting.
Myth 2: Consultants are exorbitantly priced
People frequently see George Clooney playing a business consultant in the movie "Up in the Air" in their minds' eyes when they think about business consultants.
That is a mental picture of a well-dressed, business-savvy consultant with a lavish expense account and exorbitant prices.
Both a wonderful movie and an even better myth may be made of this.
Myth 3: Consultants make good-faith promises but fail to achieve results that last.
There is a widespread misconception that a business consultant creates attractive PowerPoint presentations for our clients and leaves them with appealing company strategies but no long-term results. In other words, a classic example of style triumphing over the content.
That is not how I have encountered things as a customer or a business consultant. The days of merely diagnosing a situation, giving counsel, and moving on to the following consulting project are long gone.
Of sure, recommendations and guidance are beneficial. The true advantage, though, arises from the recommendations' successful execution. As a result:
In other words, we collaborate with you on ideation and execution. In addition, we make sure your teams have the resources and instruction they need to succeed long after our task is complete.
In addition, some consultants even provide the backup of a retainer in the case continued assistance is subsequently required.
Don't be misled. Business consulting is a results-driven industry and a contact sport. The goal is to provide long-term advantages.
Myth 4: Only huge organizations use business consultants.
Undoubtedly, major organizations have large expenditures, which include budgets for business consulting. Additionally, working with blue-chip corporations is a major source of revenue for the big four management consultancies.
However, it does not follow that you won't be able to associate with a suitable business consultant if you are an SME.
Whatever degree of maturity your company has reached, business consultancy is offered in a wide range of forms and sizes. from early-stage startups to the massive mergers of the world's current heavyweights.
Econstra has worked with businesses functioning locally up to huge corporations in their global headquarters during the past few years.
The need to:
Has always been the common driver, irrespective of the size of the company.
enlist temporary assistance
get a perspective from the outside
take advantage of expert industry knowledge
Myth 5: Only underperforming organizations use business consultants.
Business consultants are frequently portrayed in the public mind as turnaround specialists who swoop in to save once-great but now failing organizations.
Naturally, there are a lot of business consultants who work with underperforming businesses. They pinpoint inefficiency, missed chances, and business blind spots. By collaborating with their clients, they aid in turning around the decline and restarting the company.
These kinds of assignments, nevertheless, are uncommon.
The majority of the businesses we've collaborated with don't require remedial assistance. These are powerful organizations looking for innovative methods to outpace the competition and grow more sustainably through business development.
Myth 6: Consultants are more concerned with their interests than those of their clients
The last and most damaging fallacy is that business consultants are more concerned with their interests than those of their clients.
Contrary to popular belief, consultants do not secretly show up at the job site and then vanish into a conference room to work on some grand scheme.
They then show off how brilliant they are by confidently delivering their sleek PowerPoint later on.
The reality is that business consulting is absolutely nothing like this.
Business consultants collaborate with your teams to co-create customized solutions that are designed to operate in your setting for the benefit of your staff, your clients, and your business.
In conclusion, business consultancy is a huge industry.
Business consultants are used by businesses of all sizes and across all industries to enhance the value of crucial projects.
In addition, business consulting itself takes many different forms. And from a wide range of consulting firms, including the "Big Four" and independent experts.
Naturally, not every project involving external consultancy is successful in the same way that internal initiatives can also fail.
However, there are great expectations when you work with outside expertise. It is simple to place the blame for failure on the business experts you paid extra to hire to meet your issues or take advantage of your opportunities.
Myths about the multi-billion dollar consulting sector have developed as a result of misunderstandings, misinformation, and assumptions.
The unchanging fact is that successful business consultants put forth a lot of effort on behalf of their clients. Those that don't create value in such a cutthroat market end up going out of business.
Finally, don't hesitate to get in touch with us whenever you need a business consultant.
Successful consulting projects ultimately lead to additional assignments for current customers or recommendations that lead to new opportunities.
Therefore, a client's contentment is crucial. Due to this, business consultants always put their clients' requirements first.
Subscribe to our free newsletter.
In today's highly competitive business landscape, manufacturing companies face constant challenges and changes in technology, regulations, and market demands. To thrive in this environment, it is essential to have a trusted partner by your side. That is where Econstra comes into play.  So, today, in this blog, we'll explore the reasons why you should choose […]